The Importance of Direction
Directing in a video production is such a crucial role that often goes unforgotten by the viewer since it's behind the scenes. Whether it be artistic direction, acting direction, or vocal direction, each part is essential to the end result of the piece. When creating something so stylized, like the film noir narrative "College Presidents Never Sleep," it became important that everyone (whether it be at our Saratoga / Albany location or at our video production location in Boston, MA!) involved knew what the end goal was.
Both the writer, Bill Ladd, and John Wager, head of Galileo Media Arts, did an incredible job directing in the vocals and acting of the piece. Bill had the voice written into the script with lines like "I knew this kinda night would be gettin' to ya," or stage directions such as "Phil looks reflectively with a fedora tipped back on his head as he stares out into the night." Meanwhile, John was able to coach Phil and Marie in the sound booth, helping them to pace their lines, emphasize certain words, or speak in the right tone to give it that cool film noir feel.
Alex Kenyon had the artistic vision to get the cinematic style just right. He knew that in film noir, instead of using a key, fill and a hair light, to instead, only use a strong key light. This helped to reflect the low-key lighting style of film noir movies, creating really strong contrast. Between Mary Solomons, Skidmore's Director of Donor Relations, and Bill Ladd, the style of clothing and props were also considered, everything from a trench coat, a 1950s type writer, and even a picture of the Maltese Falcon hidden in the shoot added to the film noir style.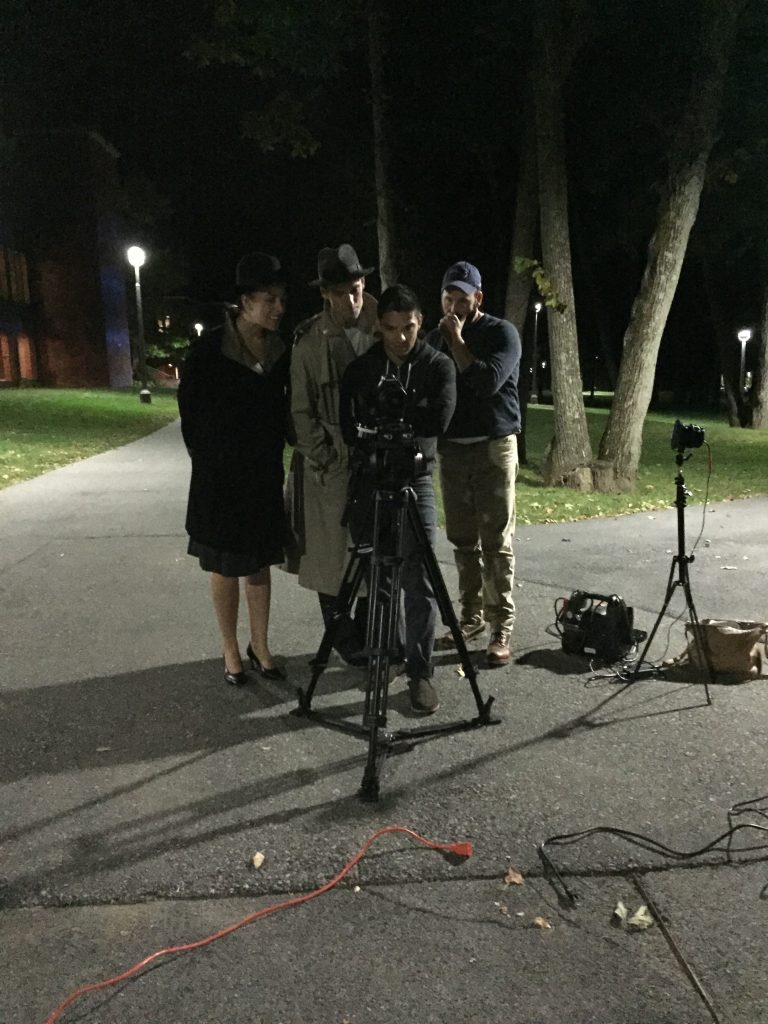 Direction is crucial to the success of a video, and if I do say so myself, when it comes to "College Presidents Never Sleep," the direction must have been pretty good.
---
---